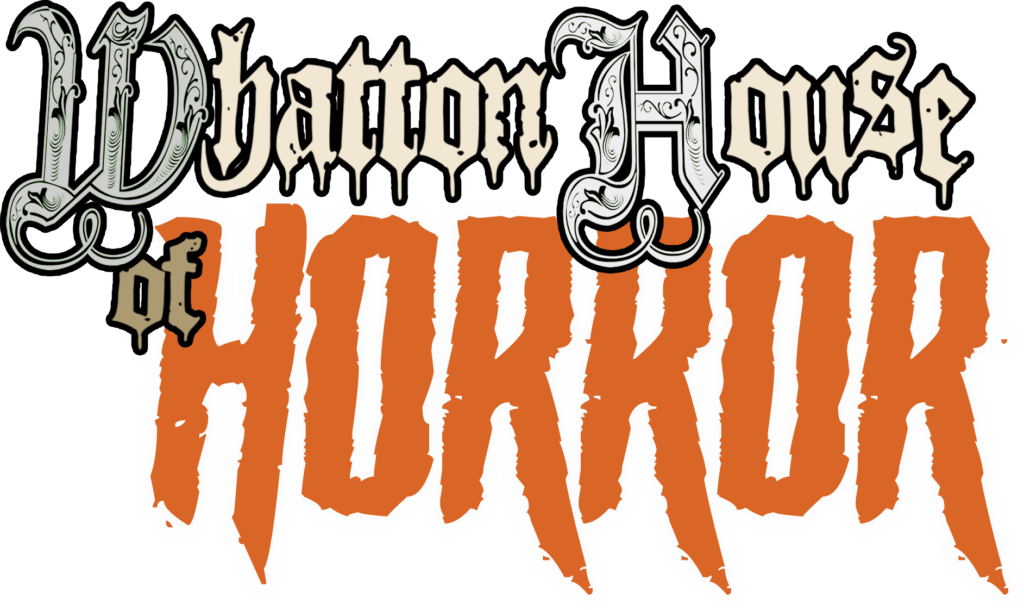 PRESENTS


After the award-winning success of last year's "Purgatory", Whatton House of Horror returns bigger and better with a double dose of diabolical devilry. Two terrifying trails set in the 17th Century, a time before reason: the time of the Witchfinder!
WITCHFINDER TRAIL 1 – FEAR THE WOODS
It is the Year of Our Lord 1655. A land ruled by fear. Plague strikes at random. The cause – a mystery. Witchcraft lurks in the wild heathen woods of Puritan England. The blame must be theirs!
England recruits a cruel Champion. Step forward The Witchfinder – a hate-driven hammer to crush witchcraft in the name of all that's holy.. As dark and dreadful as any demon. Feared by the guilty and innocent alike. Evil is recruited to combat Evil.
Through torture, torment and trials he forces confessions from the Crones, Curse-mongers and Cunning Women of the parishes.
Immerse yourself in this Wicked Land, as you are plunged into the dark days of old England and pursued through the woods by the daemonic entities.
Witness a Ritual in a gloom-filled glade. Witness simple-folks' delusions as they are ravished by disease and death. See a Witch trial, and the torment and torture sparked by suspicion and ignorance.
Fear the woods. Fear the Witch. Now fear the Witchfinder.
Whatton House of Horror, in partnership with events award-winners Area 51, bring you a truly immersive journey into the mania of a deluded age. A journey deep into the haunted woodlands. Travel back to a time before reason… when dark forces haunted the shadows – and the minds of the peasant.
A 45-minute theatrical horror experience like no other before it, and an epic adventure that will chill you to the bone!
WITCHFINDER TRAIL 2 –
THE TORTURER'S APPRENTICE
Venture into the vaults of the Witchfinder as he plies his evil interrogation upon fearful suspects accused of witchery.
Pity those poor lost souls whose only sanctuary lay in forced confession, minds twisted in torment till they beg for release – even if execution is the only escape.
The dimly lit and ruined chambers here are haunted by the ghosts of the damned, those who still cling desperately to life – and the few who are trapped between the two!
Witness the innocent crumble and confess, see his gruesomely sadistic ways first-hand. But will you be tempted to join the Order of the Torturer's Apprentices.
Shall you try your hand at torment in his blood-stained chambers? Pain is the power you'll wield.
A 15-minute detour into dark chilling dungeons, an exclusive insight for the fearless who dare to look behind veil of a vengeful master.
Can't decide on which trail to book?
Book for both trails to experience the full horror of history's witch-hunt mania. Not for the feint-hearted.
❗️IMPORTANT EVENT INFO❗️
🚧⚠️ EVENT ENTRANCE ⚠️🚧
ENTRANCE TO OUR EVENT IS ON 'MILL LANE' VIA LONG WHATTON
(NOT THE FRONT ENTRANCE ON THE A6)
WHEN EXITING THE EVENT ONTO THE A6 'LEFT TURN ONLY'
FOLLOW ///what3words
blueberry.immediate.tilting
Please drive slowly and responsibly.
FAQ's
Can I come in fancy dress costume?
We do not allow visitors to wear masks or fancy dress 
What should I wear?
Bring appropriate clothing & footwear – the route is outside and walking through the woods.
If there has been a lot of rain it can get quite muddy, and October nights can be quite cold. 
Is it for children?
Our event is very frightening so may be inappropriate for small children. We strongly advise that the event is not suitable for children aged under 12.
Those aged under 12 must be accompanied by an adult
What size group can I bring?
You will travel around the trails in a group of 6-8 people.  We limit group size to between 6 -8 to maximise the scares for each member of the party. 
You can book a party of less than 6-8, however, you will likely be teamed up with other parties to make a group of 8.
If you are booking for more than 8 people, you will need to split your group into parties of no more than 8.
How long is each trail?
"Fear the Woods" is approximately 35-40 minutes 
"The Torturer's Apprentice" is approximately 20 minutes
You can choose to do one or both if you are feeling brave – each will involve a separate queue.
How does my trail operate?
Please arrive at least 15 minutes before your entry time slot. You will not be permitted to     join the queue line earlier than your allocated time. If you arrive early please wait until it is your allocated time slot. There will be plenty of hospitality to enjoy while you wait.
You will be placed in a group of maximum 8 for your guided walk to ensure the best experience for all.
If I book one trail online but decide I want to do the second trail on the night is this possible?
If there is availability then this may be possible however we strongly recommend you book in advance to avoid disappointment
How long can I stay at the event?
Our event will open one hour before the first trail time and close one hour after the last booked slot. Start times vary due to light levels.
Within our opening times you have no restriction on the length of time you can stay with us and we encourage you to stay a while for some food, drink and retelling of your experience to your friends! 
What if I get too scared?
Once you have entered the trail, there is no escape……
How scary is it?
You will journey through darkness with live actors lurking in the darkness waiting to scare you. It is extremely scary!
Are the trails accessible for all?
Unfortunately, due to the age and layout of the trails and the uneven, muddy grounds – they are unsuitable for wheelchairs, motorised buggies, persons on crutches or those who cannot walk safely unaided.
Do you offer Carer tickets?
Guests able to provide evidence of their disability will be entitled to bring a carer free of charge. 
Is it suitable for people with epilepsy?
There will strobe lighting effects unfortunately, so this is not recommended for people with epilepsy.
I'm pregnant can I still come?
This attraction is not recommended for pregnant women due to its intense nature
Can I bring my dog?
Strictly no dogs. Access will be denied to all areas of our event if you bring your dog
I came last year; will it be any different?
Yes! And this year we have 2 trails to entertain you!
Will food and drink be available?
Yes! Hot food and drinks can be purchased in our Courtyard. You do not need a ticket to enter the courtyard to enjoy the hospitality. So those who want to be part of the night out but not venture into the trails can do so.
Can me and my friends book separately and still go in together?
Yes – as long as you all book the same time slot, you can all go in together provided the group size isn't more than 8. 
Can I drink alcohol before or during the event?
Yes, however anyone suspected to be intoxicated will be denied entry without refund – this is for the protection for you and our scarers. No food or drinks allowed in the trails.
Can I touch the performers?
No – anyone found maliciously touching our performers will be removed and the police may be called. 
Do I have to run?
No – running is strictly prohibited unless an actor directly instructs you too. Guests must walk at a steady pace. This is for your own safety.
When Should I book?
This is a sell-out event so booking as early as possible is strongly recommended to avoid disappointment.
Prices exclude booking fees. When purchasing tickets for you agree to the following terms and conditions:
TERMS AND CONDITIONS 
Booking and admission
1.Prices include VAT and exclude booking fee which will be calculated at basket​
2. A ticket booking secures entry to the event on the date booked. You should arrive at least 15 minutes before your time slot. In very busy periods there may additional waiting time and you may enter the trail later then your time slot. 
3. If ticket holders arrive after their booked time slot, reasonable effort will be made to fit them in later if there is space, but usually after ticket holders who have booked for that time-slot. 
4. Due to increased security, we may carry out bag searches. No liquids or beverages will be allowed to be brought on site.
5.  We reserve the right to refuse admission to anyone. Persons will not be admitted if they appear to be under the influence of alcohol or drugs. No alcohol is to be consumed going around either trails. Equally we reserve the right not to admit, or to ask to leave, anyone displaying aggressive or antagonistic behaviour or not complying with our rules. Persons may not be admitted if wearing any form of temporary cast, medical brace or who are using crutches for safety reasons.
6. Ticket holders may experience intense audio and lighting, extreme low visibility, strobe lights, fog, damp or wet conditions, high and low temperatures and a physically demanding environment. Persons should not participate if pregnant, suffer from claustrophobia or are liable to seizures, heart or respiratory problems.
7. Our event is an adult event not intended for children. We strongly advise that it is not suitable for children aged under 12. If a child or young person appears seriously frightened we may ask the parent or guardian to take the child out, and to stay with them. If you leave the experience you will not be refunded and may only be permitted re-entry on the discretion of the event staff.
8. No smoking on site. No alcohol or food to be brought onto the site. There will be food and drink that can be purchased on site.
9. Ticket holders must understand that there is inherent risk involved in attending our event. Ticket holders voluntarily assume all risks and dangers associated with attending our event at Whatton House. In consideration and acceptance of entrance into our event, ticket holders agree to release the operator, its principals and employees from any liability, harm, injury or death, cost or expense whatsoever that may arise directly or indirectly from attending our event.
​
Refunds
10. Once tickets are booked there are no refunds and time slots cannot be changed under any circumstances.
Weather
11. Our event will continue whatever the weather. Ticket holders should dress suitably with appropriate footwear for the weather on the night. Do not bring or raise umbrellas on the trails. Ticket holders must keep moving and not occupy covered areas to keep out of the weather and thus interfere with the progress of others.
Going around the trails
12. Ticket holders should keep together in the group in which they entered. Members of the group should not race on ahead or lag behind. The group should proceed steadily so as not to merge with groups ahead or behind. Our staff may halt groups to separate them out if they are getting too close. 
13. Ticket holders must keep to the designated route which is defined by paths, tracks, flares, lights, ropes, barriers & signs. DO NOT climb over or through barriers of any sort.
14. Our event makes much use of darkness to create its scares. The ground underfoot may be uneven, so ticket holders should pay attention, take care and watch their step. RUNNING IS PROHIBITED, if you are seen to be running, a member of staff will ask you to leave the experience without refund. Our event is not suitable for visitors with limited mobility or wheelchairs.
​
The Scares
15. DO NOT touch any exhibits, or extinguish or move any flares or lights.
16. DO NOT push, punch, hit, grab, threaten or in any way touch any of the Scarers. If you violate this rule you will be asked to leave without a refund and the event staff may call the police.
17. Anyone too scared to continue should ask any scarer or member of staff for directions to the nearest exit.
​
Accidents
18. In the event of an accident, the group should stay where it is and call "Help – Accident!" and wait for a member of staff to attend. Thereafter follow directions given by staff.
19. By purchasing tickets to our event, you hereby agree to all the above terms and conditions listed on this website.