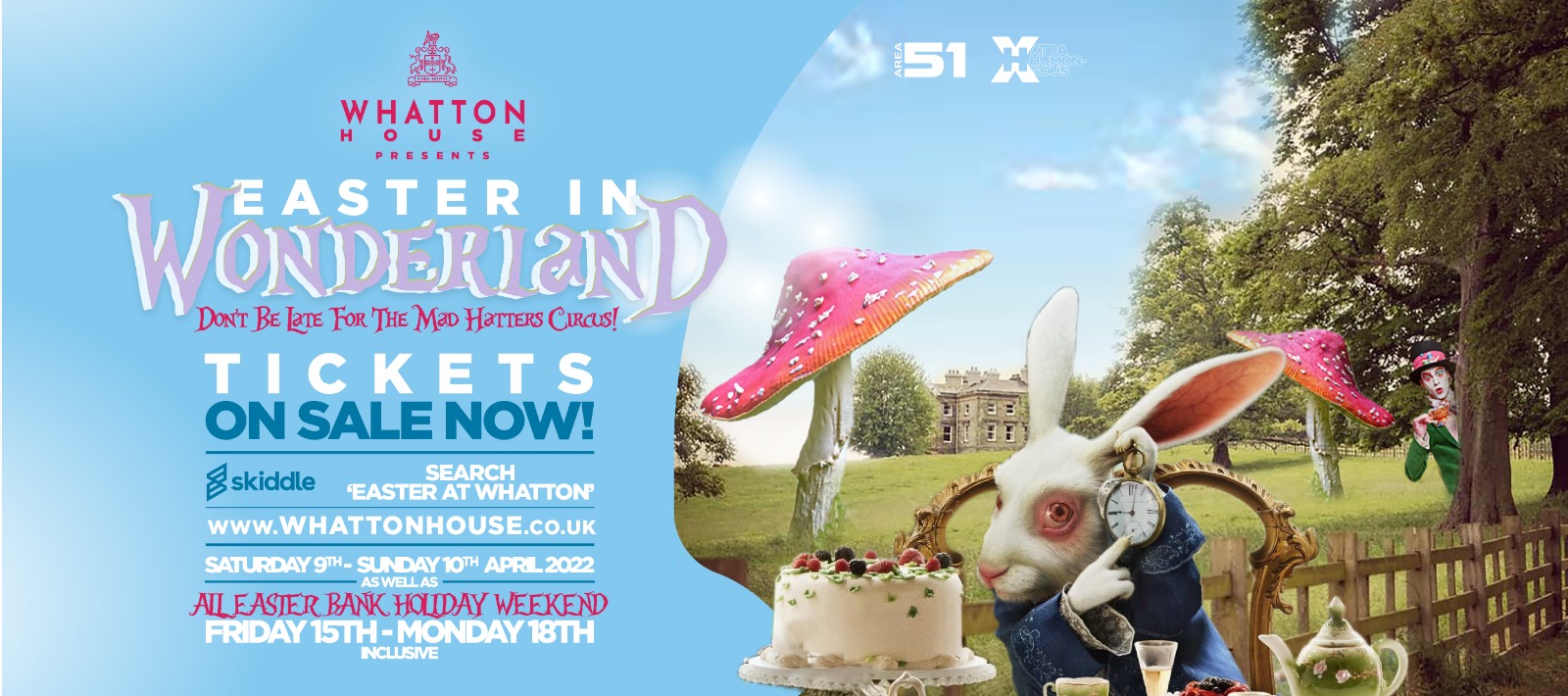 "I fancied things like fairy tales never happened. Now I'm in the middle of one!" said Alice.
Join Alice on her exciting journey through Easter In Wonderland. It's a magical adventure with activities for all the family – including our specially produced Mad Hatter's Circus Show – all set in the enchanting grounds of wonderful Whatton House.
Everything will get curiouser and curiouser as you meet the real-life characters from Lewis Carroll's classic. Disappear through a tree-trunk tunnel into a dreamland that's as mad as it's merry. Wander free where your curiosity takes you. Join in or just watch as Whatton's woodland becomes a wonderland alive with exciting encounters.
The amazing Mad Hatter and his friends decide to stage their own circus with a mighty oak as their Big Top of Talent. Look for secret clues all around the grounds, each one a brain-teaser taking you on a treasure hunt full of surprises. Meet the White Rabbit and his forest of friends, and beware the right royal rage of the Queen of Hearts and her Playing Card Guards.
There's so much to see and do, so allow a crazy couple of hours to make the most of your magical day in Whatton's Easter In Wonderland.
"And Don't be late for the Mad Hatter's Circus!"
"Eat me. Drink me" said the labels.
We promise you won't shrink to doll-size or grow like a giant, as Alice did. But our special seasonal catering will delight Wonderland visitors, large and small. It's the perfect tasty treat during your day out in Wonderland at Whatton.
FAQS & CORONAVIRUS ADVICE
We want to help you and everyone else stay safe and feel comfortable so please follow our guidelines relating to Covid -19.
• We recommend visitors are vaccinated before you come to Whatton House for our event.
• Wearing a mask is not mandatory as this is an outdoor event
• If you test positive in the days before your visit please keep others safe and stay at home. You will be able to roll your ticket over to next year.
• Please respect the wishes of others who want to socially distance and wear a mask. Respect personal space and don't get into debates with people over their choices
What do I need to do to visit?
• All visitors must pre-book their space online prior to visiting,
• All tickets are date specific and valid for that day/time only, so please book and plan accordingly
• You should allow approximately 2 hours for your experience.
• All tickets are 'E-Tickets' please show them on your phone when you arrive for a touchless experience
• Card/contactless payments are encouraged where possible
The following extra COVID 19 Hygiene Procedures have been brought in to help keep both guests and staff members safe:
• Visitor numbers monitored each evening, via the online booking of all tickets ongoing
• Extra hygiene and cleaning measures throughout the site
• Our teams will wear personal protective equipment where necessary
• High touch contact points sanitised more frequently, or where this is not possible remove them from use
• Full training and reassurance for all actors
• Protective screening, or distancing, where necessary
• Extra hand sanitiser stations available prior to entry, and other key points
How does your trail operate?
Maintain distancing when in queue lines.
Sanitise your hands.
Please arrive at least 15 minutes before your entry time slot. You will not be permitted to join the queue line earlier than your allocated time. If you arrive early please wait until it is your allocated time slot.
On entry to the gardens you will be given a ticket to the Mad Hatter's Show. Before and after the time shown on the ticket you are free to take part in the trail/enjoy all the gardens have to offer but you must arrive in time for your show (this area will be clearly marked and signed).
Please arrive 15 minutes before your show entry time to ensure we run on time.
• Event Opening times on all dates
• ​10am-6pm
• Gates will close promptly at 6pm no lingering after this time please!
What is the recommended age for the event?
The recommended age is 3 years and over. Children must be accompanied by a responsible adult at all times.
Children under 2 years are permitted free of charge
A child ticket is for 12 years and under only.
•
Is the event wheelchair friendly?
The trail and circus are wheelchair and buggy friendly however some trail clues will be off the paths so assistance from another member of your party will be required, no wheelchairs or mobility scooters on the grass please.
Can I bring my dog?
Dogs, other than guide dogs, are not permitted in any area including the car park, courtyard and garden. Please do not leave your dog in your car, please leave them safe at home.
•
What should I wear?
Outdoor clothing and footwear – it is springtime however it could still be wet and cold
Fancy dress is encouraged!
Catering
There will be a number catering vans on-site and a bar as well. Please stay a while and enjoy the atmosphere.
All catering facilities are payable extras and are not included in your ticket price
Please note intoxicated guests causing disturbance will be removed from the event.
Can I buy tickets on arrival?
No sorry, you must pre-book online. This ensures we have manageable and safe capacity limits; we recommend you book in advance as we anticipate demand will be high.
Terrain
You are advised that this event has been advertised as a walking trail. Stout footwear and warm clothing are recommended if the weather is inclement.
Weather
The attraction will run whatever the weather so please dress according to the forecast for the day.(Please see "Events Outside our Control" in Terms and Conditions below for further info)
Toilet facilities
Increased cleaning regimes are in place. Guests will be asked not to enter whilst cleaning takes place. Please ensure you use toilet facilities as promptly as possible and leave them in a clean manner as you'd expect to find them yourselves. Do not allow children to use facilities on their own.
Do you have sanitiser stations?
We have a number of hand sanitiser stations located around the site, and would also recommend you bring your own so you can use whilst walking around. Although sanitiser is handy, it does not replace a good hand washing hygiene regime. Please follow the advice of the UK Government, NHS and PHE by washing hands for a minimum of 20 secs before eating, drinking and after visiting toilet facilities.
When should I not visit?
If any member of your group feels unwell during your visit please leave immediately, do not come in contact with any team members or guests. Please call us once safely in your car (whilst not driving) to tell us about your visit so we can log, track, trace and implement any additional hygiene requirements.
We respectfully ask that people take responsibility for their own health and the health of the community before visiting us. Please do not choose to visit us if you are experiencing symptoms of COVID-19 or have any underlying health conditions that may put you or others at risk. If you are vulnerable in any way, it is your responsibility to make the right choice for yourself and others around you. Please follow the advice given by the UK Government, PHE and NHS. We can only operate when everyone works together.
You should not visit us if you have been in close contact with anyone with COVID symptoms or a positive test result 14 days prior to your date of visit.
If you have recently returned to the UK from abroad, you may be required to self isolate on your return. Please follow the government guidance HERE Please contact us if any of the above apply.
Closure Due To Coronavirus?
In the event that our event is unable to operate due to coronavirus, tickets will automatically become open dated and transferred to the 2022 season. All tickets are non-refundable. By purchasing tickets to the event, you agree to these terms and conditions.
The venue accepts no responsibility for personal injury, loss or damage to valuables or personal belongings.